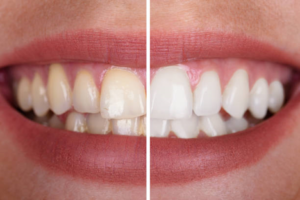 For most people, someone's smile is the first feature that captures their attention—and a healthy and white set of teeth is even more likely to attract admiration! However, many people suffer from stained or discolored teeth; and while there are various different reasons for this, did you know genetics can sometimes play a part? Here's more from your dentist about the connection between teeth staining and genetics, along with some ways you can address it.
<!—moreà
Why Do Teeth Become Stained?
Teeth staining can occur for a variety of reasons, but it's generally always categorized as extrinsic or intrinsic. Extrinsic staining occurs on the surface, or the enamel, and is usually caused by certain foods and drinks like coffee, tea, red wine, berries, etc., as well as poor oral hygiene, smoking cigarettes, and chewing tobacco. On the other hand, intrinsic staining occurs beneath the enamel, in a layer known as the dentin.
If it seems like some people have been gifted with naturally bright pearly whites, you aren't wrong—some people are lucky enough to have been born with thicker and whiter enamel. Conversely, others are genetically predisposed to thinner enamel and thus, teeth that darken more easily over time.
This staining can also be caused by one of two hereditary conditions: "Amelogenesis imperfecta, which is caused by genetic mutations and is characterized by fragile, yellowish-brown enamel. "Dentinogenesis imperfecta" causes your enamel to appear transparent and grayish-blue in color. Both of these conditions also make your teeth very brittle and susceptible to damage.
Addressing Tooth Discoloration
Fortunately, tooth discoloration can easily be addressed with the help of a skilled cosmetic dentist, regardless of whether it's hereditary or not! They have the means to whiten your smile by several shades, with both in-office treatments and professional take-home trays proving quick, easy, and undeniably effective.
In some cases, patients might need a more restorative treatment to achieve a whiter (and healthier) smile—this is sometimes the case for patients with genetically-inherited conditions that tarnish their teeth. Options like crowns and veneers are both able to grant you beautiful, whiter teeth that also function like normal. In any case, if you suffer from any type of tooth discoloration, even if it's hereditary, it can be resolved!
About the Author
Dr. George A. Hoop received his dental degree from the Emory University School of Dentistry and has proudly served patients and families in his community for over three decades! His practice offers a wide range of cosmetic dental solutions including options like teeth widening to help you meet all of your smile goals. If you have any questions about the blog or you'd like to arrange a visit for you or a loved one, feel free to contact Dr. Hoop through his practice's website or over the phone. Fort Myers Location: (239) 356-8683.