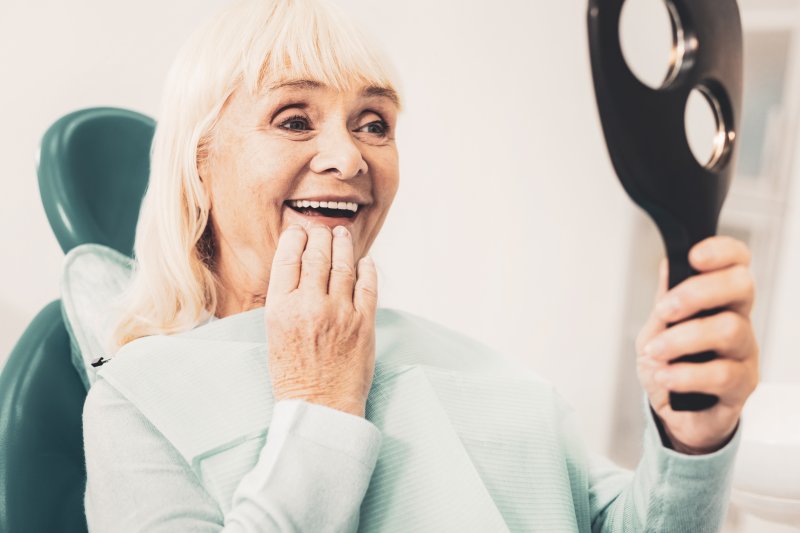 Dentures are a great tooth loss solution for many people. Although you may not have any of your natural teeth, your prosthetics provide a lifelike smile with the benefits of a functioning set of pearly whites. But does that mean you no longer need to go to your biannual checkups and exams? Certainly not! It is vital to maintain your dental visits for your oral health, as well as your overall well-being. Read on to learn four reasons why you should still visit your dentist with full dentures.
Reason #1: Smile with Comfort
Dentures fit comfortably and work properly based on your healthy gums and bone. Over time, due to missing teeth, the hard and soft tissues can change. This can lead to ill-fitting dentures. You may not notice any changes initially or attribute them to normal slipping. However, the changes in your jawbone and gums can lead to an improper fit of your dentures, causing irritation and soreness. With regular visits to your dentist, progressive changes in your mouth can be noticed and your dentures can be adjusted as needed.
Reason #2: Maintain Your Overall Dental Hygiene
Your dental health is not just contingent on your teeth; it embodies your full mouth, including your gums, soft tissues, and bones. Even if you are without any of your natural teeth, you can still be susceptible to gum disease, which can affect your jawbone as well. Your dentist can ensure your gums and the rest of your mouth remain healthy! In addition, plaque can also build up on your dentures, which could affect your dental and overall health. A professional checkup and cleaning will keep them bright and healthy for you!
Reason #3: Early Detection of Oral Cancer
In addition to checking for the early stages of gum disease, your dentist will also do an oral cancer screening, which could be potentially lifesaving. They will examine your jaw and neck for any bumps or other abnormalities. If you maintain your dental visits, you are preventing any further possible issues from progressing.
Reason #4: Extend the Life of Your Dentures
By frequently monitoring and adjusting your dentures, your dentist can help identify signs of damage or excessive wear. This prolongs their lifespan, as well as preserves their functionality. Your dentist will check in with you about how you are caring for your dentures, and offer you tips on properly maintaining them on a daily basis. Combining your efforts with your dentist's help can make your dentures last up to seven years before needing replacements.
So, as you can see, it is very important to maintain your regular dental visits, even with full dentures. By doing so, you will enjoy a comfortable and functional smile for years to come!
About the Author
Dr. George Hoop has been helping improve smiles for over three decades. He gives personalized attention, using state-of-the-art technology, for all your restorative needs. As a certified restorative dentist expert, he can help you with any of your denture concerns, from checkups to getting implant-supported dentures. To schedule a checkup or to learn more about dentures, contact him through his website or by phone (at one of his two convenient locations) at (239) 356-8683 or (239) 356-8697.