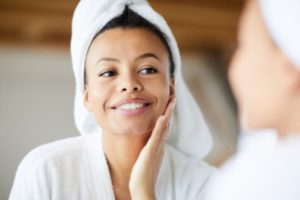 Do your gums ever bleed or feel sensitive? If so, you probably have some form of periodontal disease (known as gum disease), which is a common dental issue that currently affects almost half of American adults. If you've noticed some of the normal symptoms like redness, puffiness, bleeding, and discomfort, you probably have lots of questions, including whether or not gum disease is curable. Read on to learn the answer!
But First, What Really is Gum Disease?
Gum disease is an infection and inflammation of your gum tissue. Typically, it's caused by poor oral health like lack of brushing and flossing, which leads to plaque buildup that infects the gums. The earliest stage is called gingivitis—the most common type of gum disease. A telltale sign of gingivitis occurs when you notice bleeding after brushing or flossing.
Why Is It a Big Deal?
When you think about your smile, you may automatically picture your teeth, but your gums make up the other half of your mouth! In fact, without your gums, you couldn't enjoy a full and beautiful set of teeth. When gum disease persists, it can cause severe problems like permanent tissue damage, jawbone deterioration, and even tooth loss!
What makes getting treatment even more important is that recent studies have found a direct link between the health of your gums and your overall wellbeing. The same inflammation that impacts your gums can affect your arteries, increasing risks of heart attacks, high blood pressure, strokes, certain cancers, and even Alzheimer's disease.
Is Gum Disease Curable?
With gum disease, it's all about prevention and early detection (if it does occur). Gum disease is completely preventable—it's usually as easy as brushing twice a day, flossing once a day, and seeing your dentist twice a year. However, the good news is that the beginning stage, gingivitis, can be completely cured and even reversed! That's why it's vital to contact your dentist as soon as you notice the first signs of gum disease.
If the disease goes unchecked, you may need a treatment called scaling and root planing, which can also be combined with antibiotics to fight bacteria. This involves a deep cleaning of your smile before reaching under your gums to smooth out the tooth roots, making it more difficult for plaque to collect in the future. In some cases, it's recommended that patients see their dentist every 3 months instead of 6 to make sure their smiles are protected. Unfortunately, if gum disease continues to persist, it can cause permanent damage that will require surgery.
The good news: gum disease is curable—you just need to catch it early! Remember to visit your dentist regularly and keep the common symptoms in mind to stay on top of your oral and overall health.
Meet the Dentist
Dr. George A. Hoop has over 3 decades of dental experience, including a periodontal specialty residency at the Emory University School of Dentistry, where he also received his Doctor of Dental Surgery. If you have any questions or want to schedule an appointment, he can be contacted through his website or by phone at his Fort Meyers or Naples locations.