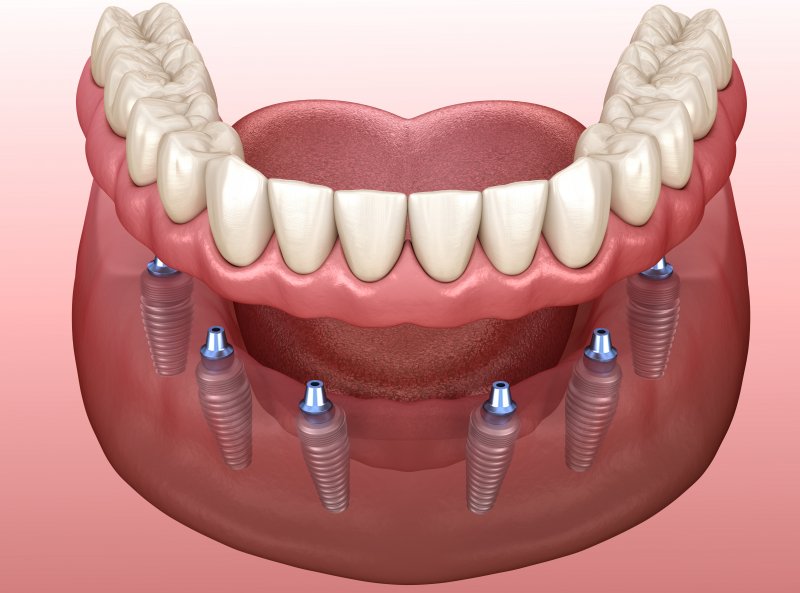 While a denture can be used to replace several teeth quickly and affordably, there are many caveats and tradeoffs that need to be made when you choose this option. Alternatively, those who have been wearing a denture for a long time may already know the pitfalls that often accompany them. Today, you can learn why traditional dentures are not always ideal for everyone and why an implant-retained solution from a dentist may be the way to go instead.
How Dentures Can Be Frustrating for Patients
Dentures are made up of an acrylic arch that houses a series of dental crowns. While a denture is designed to fit the shape of the mouth and remain in place with regular use, it only rests on top of the gums. It does not work to replace the roots of teeth, which can cause them to slip and shift out of place.
Additionally, the bone tissue underneath the gums continues to change and shift over time, meaning that the denture will eventually need to be refitted in order to remain stable. As the bone tissue begins to resorb and atrophy, the shape of the jaw changes, causing the denture to no longer fit as it did originally.
Relinings and repairs can be done on dentures to make them last longer, but even then it's common for them to be replaced every 7 to 10 years. With implant-retained solutions, you can expect true longevity with your restoration.
Should You Consider an Implant-Retained Solution?
Implant-retained dentures are designed to attach to a series of dental implants that are placed into the jaw and given time to integrate. Dental implants are meant to mimic tooth roots in almost every single way, meaning they:
Stimulate bone tissue
Work to maintain the shape and structure of the bone
Restore biting strength to the jaw
Can hold a natural-looking tooth replacement
Can remain functional for well over 30 years
If you're tired of your current denture or would prefer to have a more effective long-term solution, an implant-retained denture is most likely the best option for you moving forward.
What Can You Expect from Dental Implant Treatment?
During the initial consultation, a dentist will examine the mouth and confirm the number of teeth that need replacement and how many dental implants are necessary to hold the eventual prosthetic. From there, a second appointment is scheduled to have the implants placed. If the dentist performing the exam has the training and expertise, they can even perform the entire treatment in-house!
After the implants are placed, a temporary restoration is attached while the permanent denture is made. When the implants have healed completely, the permanent denture can be attached.
Do implant-retained dentures sound like the right treatment for you? If you're struggling with a traditional denture and want a more long-lasting solution that fits comfortably and makes chewing food easy again, get in touch with an implant dentist today!
About the Author
Dr. George Hoop is a highly trained periodontist and certified general dentist. Not only does this mean he can confirm your eligibility for implant-retained dentures, but he can perform every phase of treatment in his office! This combined with is guided implant procedures using the latest technology ensures a predictable and successful outcome. To learn more about his practice or schedule an implant consultation, you can contact him through his website.