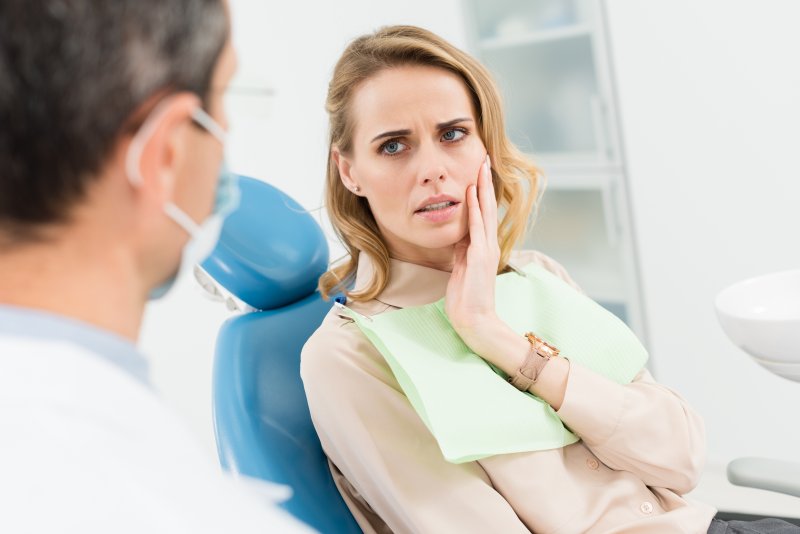 Imagine this: in an effort to lead a healthier lifestyle, you opt for a handful of delicious dates instead of your normal go-to dessert. You're feeling pretty good about your decision until you bite into your second one and hear crunch! A throbbing pain begins stemming from your mouth as you realize your teeth came down hard on a pit. One quick glance in the mirror confirms your initial suspicion: your tooth is cracked.
Each year, millions of patients seek treatment for sudden dental emergencies. To help get you the fast, effective care you need, an emergency dentist is sharing the three most common injuries and their treatment options!
What Is a Dental Emergency?
From cavities to knocked-out teeth, there are a multitude of dental issues that can arise. However, it is important to know the difference between an injury that requires immediate attention and one that can be soothed with a home remedy until your next appointment. While every form of tooth pain requires treatment from your dentist at some point, painful or potentially life-threatening symptoms are considered dental emergencies. Therefore, make sure to contact your dentist at once if you have discomfort in conjunction with an abscess, swelling, fever, loss of appetite, or abnormal bleeding.
3 Most Common Types (& How Your Dentist Can Help!)
Tooth or mouth pain – Persistent toothaches are arguably the most common dental emergency among patients. However, the discomfort can be a result of everything from something lodged in your teeth to an abscess. If your pain endures after you gently brush and floss, then visit your dentist. From there, they can conduct a thorough examination and provide you with the necessary treatment.
Broken tooth – Enamel is the strongest substance in the human body. Nevertheless, it can break and result in a chip, crack, or fracture. After addressing any pain or swelling, your dentist can mend the tooth with a restorative treatment option, like dental bonding.
Knocked-out tooth – Did you know that over five million teeth are avulsed each year? While priority number one is saving your tooth, the likelihood of that happenings significantly diminishes 30 minutes after the incident. If your natural tooth cannot be reinserted, then your dentist can use a dental implant or bridge to seamlessly restore your smile.
Experiencing a dental emergency can be anxiety-inducing. However, it is important to do your best to remain calm and call your dentist immediately. That way, you can get the fast, effective treatment you need while simultaneously restoring your smile!
About the Author
Dr. George A. Hoop began his career by graduating second in his class from the Emory University School of Dentistry with his Doctor of Dental Surgery. Since then, he has completed a periodontal specialty residency and undergone state-of-the-art training at some of the world's leading institutions, including the Dawson Academy and the Pankey Institute. Today, he uses his 30+ years of hands-on experience and genuine passion for dentistry to help his patients with everything from routine cleanings to emergency treatments. If you experience a dental injury, don't hesitate to contact him through his website or by phone at 239-939-7299.