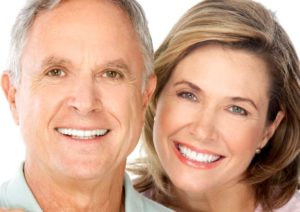 If you have one or more missing teeth, you probably already know that dental implants are considered the best way to fill in the gaps in your smile. But there are several types of dental implant treatments — how can you determine which one is best for you? In this blog post, we discuss mini dental implants, which are the ideal solution for many patients who are struggling with tooth loss.
What Are Mini Dental Implants?
Mini dental implants are roughly the same length as conventional implants. However, they have a much smaller diameter. In fact, they can be anywhere from 1.8 to 3.3 millimeters across. Also, unlike conventional implants, they feature one-piece construction. Regular implants come in two pieces.
Mini Dental Implants for Patients with Bone Loss
After the natural teeth go missing, the jawbone begins to deteriorate. Eventually, it can lose so much density and volume that it becomes incapable of supporting conventional implants. Patients may need to get a bone graft in order to move forward with tooth replacement. However, mini dental implants may be able to spare such individuals from undergoing that additional surgery.
One of the greatest things about mini dental implants is that their small size makes them suitable even for many patients who have suffered a degree of bone loss in their jaw. Plus, once they are in place, they can fortify the jaw and slow down or even reverse its deterioration.
Mini Dental Implants for Denture Stabilization
Do you already have a traditional denture? If so, you might have noticed that your prosthetic sometimes slips out of place, and that it does not provide the bite strength needed to eat tough or chewy foods.
In many cases, a few mini dental implants can be inserted into the jaw in order to stabilize an existing denture. This can eliminate embarrassing slippage, increase your ability to eat a variety of foods, and perhaps even enable your denture to last longer.
Characteristics of Good Candidates for Mini Dental Implants
Most people who have suffered a degree of tooth loss can benefit from mini dental implants. Here are a few criteria that candidates for the procedure generally have to meet:
No active gum disease should be present. If you have gum disease, you may be eligible for implants after your condition is well-controlled.
Patients should be well enough to undergo minor surgery. Individuals with uncontrolled diabetes or other health conditions that affect their immune systems may not be able to receive dental implants.
You should have good habits. Non-smokers who stick to an excellent oral hygiene routine tend to enjoy consistently positive results after dental implant surgery.
Do you think mini dental implants might be able to help you rebuild your smile? Find out more about this treatment by scheduling a consultation with a dentist who offers it.
Meet the Practice
Dr. George A. Hoop has well over three decades of experience in dentistry. He is proud to offer mini dental implants as one of the many restorative options available in our practice. If you would like to replace your missing teeth, he and our team would be happy to answer your questions and put together a customized treatment plan for you. Contact our Fort Myers office at 239-939-7299.