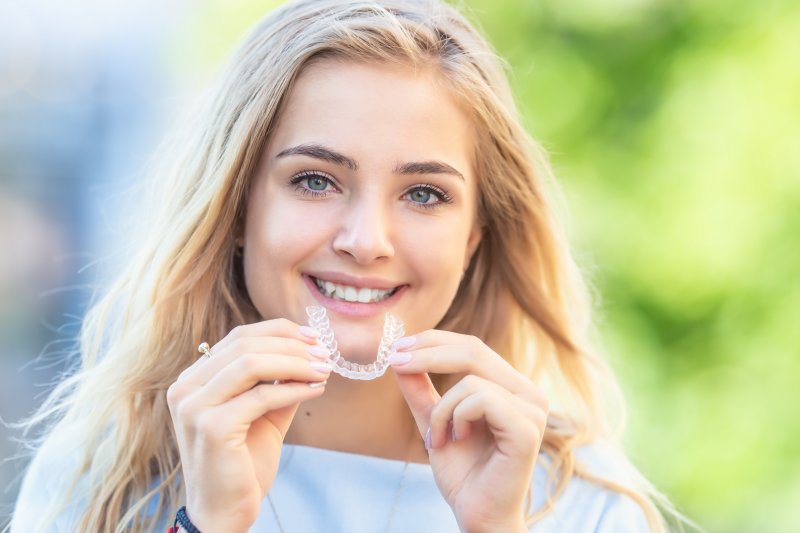 As the years pass, you might have dental work done for any number of reasons. You might get a crown to protect a weakened tooth, a bridge to fill in the empty space in your smile, or veneers to make any number of cosmetic corrections. But what happens if you eventually decide to get Invisalign in Fort Myers to straighten your crooked smile? Will the restorations you already have get in the way? In this post, you'll learn about the considerations that need to be given to previous dental work before beginning Invisalign treatment.
Invisalign with Crowns
Invisalign is generally a perfectly viable option with dental crowns. In fact, the process for straightening a tooth with a crown is not all that different than the process for correcting natural teeth. If an attachment is needed to aid the Invisalign process, the crown might make things more difficult, but it is by no means a disqualifying factor. When wearing Invisalign, don't forget to clean it regularly and to brush after every meal. You don't want bacteria and food particles to become trapped beneath the aligner – especially when these harmful substances could potentially slip beneath your dental crown and attack the tooth underneath.
Invisalign with Bridges
Since dental bridges are cemented to more than one tooth, it is not always possible to move them with braces. Orthodontic care is still possible, but the bridge will often have to be cut into sections, meaning you'll have to get a new restoration at the end of the process. That said, Invisalign is often preferable over traditional braces if you have bridges. The aligners are removable and not directly attached to the restoration, so there's less of a risk of dental damage. Your dentist in Fort Myers will have to evaluate your mouth to determine whether or not it's possible to make corrections with Invisalign with your current bridge.
Invisalign with Veneers
While it's generally recommended to get veneers after Invisalign treatment is already complete, it's still possible to use clear aligners after the restorations are already in place. The veneers themselves will not interfere with the mechanisms required to move the teeth. That said, it's important to note that veneers are designed with your current appearance in mind. Once Invisalign treatment is complete, your veneers may not look as attractive and will need to be replaced. Your dentist will be able to quickly assess and address any issues that arise during the treatment.
No matter what kind of dental restoration you have, your dentist can personalize your treatment so that you can still get the straighter smile you want without compromising the work that has already been done. Take the first step today by scheduling an Invisalign consultation.
About the Author
Dr. George A. Hoop has been in the dental field for over three full decades so far. He loves seeing the emotional reactions of his patients once they're done with their smile makeovers. He is an expert in using Invisalign and a number of dental restorations to create grins that that change lives. To schedule a cosmetic consultation at his practice, Total Dental Solutions, visit his website or call (239) 356-8683.